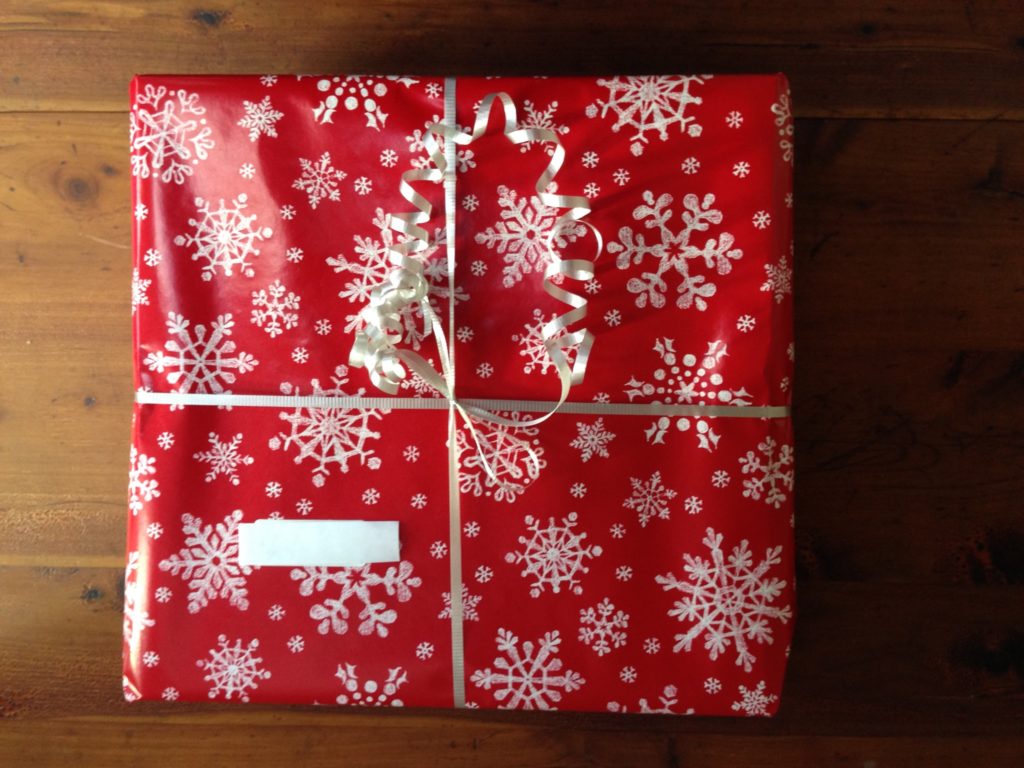 I started dating my S.O. about a month before Christmas—talk about an awkward situation for gift-giving. I don't remember what I gave him, but I still remember what he gave me: frozen peaches. To which you are quite reasonably saying, "Seriously??"
He gave them with some trepidation; I remember he said something about them having "zero economic value." But in fact, they were a great gift at that stage in our relationship. He had introduced me to the joys of steel-cut oatmeal, which is wonderful with peaches mixed in. Plus I love peaches, and of course you can't get them in the winter. To top it off, these were peaches he had personally picked at a local orchard, cut, and frozen. He was giving to me from his limited supply. It was an unusual but very thoughtful gift.
Obviously, frozen anything isn't a winning gift in most situations. (Well, just the right ice cream might work for some folks…. But I digress.) Now that we're an established couple, we pick peaches together and he gives other sorts of gifts. But the story demonstrates that creativity is worth a lot, especially in a newer relationship where a large gift can feel like too much and a trivial gift can seem uncaring.
If you're in a newer relationship, here are suggestions for choosing gifts that'll hit the right note:
Make it personal. Think about your partner as an individual. What kinds of things does he like? Is he an urban hipster or outdoorsy? a reader or a sports guy? Choose a gift that fits. You're not looking for a gift for "a boyfriend," you're getting something for this particular guy. Get advice from his friends if necessary. You don't have to get it exactly right, but if you get it really wrong, he'll feel like you don't see him at all.
Listen for clues. Has she been dropping hints about what she does or doesn't like? This is a relationship test: She wants to know whether you're paying attention to her and care about what she says. If you can't afford to get her something she's been hinting about, you're better off acknowledging that than making her think you didn't hear her. "I wish I could have gotten you diamond earrings, but I did buy you something with sparkle."
Ask about how gift-giving was handled in the family he grew up in. That's a big factor in his internal template for what holiday giving "should" be. He may not even be aware of his expectations, but knowing them is key to choosing well. Did his family give practical gifts or extravagant ones? Did they appreciate gifts that were handmade, thoughtful, or creative? Do you get a sense that there was (or is) competition in his family of origin about gift-giving? Is the whole gift-giving thing fun—or stressful?
Don't go crazy—but don't be stingy. You want to get the value right. (Well, at least in the right ballpark.) If you've been dating for a couple months and you give something expensive or emotionally significant (like any kind of ring), that can feel like too much too soon. But giving something you grabbed at the grocery store risks making the person think he or she isn't important to you—especially if it doesn't demonstrate thought or effort.
Be creative. The easiest way to walk a middle ground is to be imaginative. What not-very-expensive thing shows you've been paying attention? What would this new person in your life enjoy receiving? It might be an activity rather than an object. It might be a small thing with super-creative wrapping or presentation. It might come with a romantic compliment ("I chose this scarf because your eyes look so gorgeous when you wear that color").
Keep the eye on the goal: showing you care. The whole point of giving gifts isn't the exchange of objects, it's the expression of caring. For most people, thoughtfulness is what matters. Make an effort, and you'll make your relationship stronger.